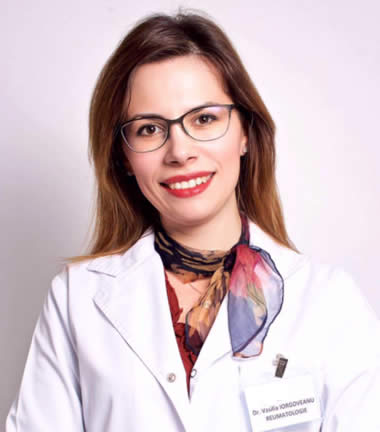 Dr. Vasilia Iorgoveanu
Medic Reumatolog, Competanta ecografie musculoskeletala
MEDIC REUMATOLOG, COMPETANTA ECOGRAFIE MUSCULOSKELETALA
Grad professional:
Medic specialist Reumatologie
Doctorand UMF "Carol Davila" Bucuresti
Competenta in ecografia aparatului locomotor
Competente :
TTT EULAR Ultrasound Course - Certificate Trainer in
Musculoskeletal Ultrasonography level 1 and 2 , Leeds,
UK, 2016
Ultrasound competency
certificate EFSUMB level 2 in Musculoskeletal Ultrasound in Rheumatology , 2014
Advanced EULAR Musculoskeletal Ultrasound Course, Roma, Italia, 2015
Arii de interes medical :
ultrasonografia musculoscheletala adult si copil
afectiuni autoimune cu manifestari reumatologice (Sindrom Sjogren, Scleroza sistemica, Lupus
eritematos sistemic, Poliartrita reumatoida, Spondilartrite periferice si axiale, Vasculite).
Cursuri postuniversitare :
Pediatric musculoskeletal ultrasound - basic course, Bucharest, Romania , 2016
Advanced EULAR Musculoskeletal Ultrasound Course , Roma, Italia, 2015
Absolvent al 6th Eular Course on Capillaroscopy in Rheumatic Diseases , Genova, Italia,
2014
Publicatii :
A. Iagnocco , V. Iorgoveanu Chapter: Osteoarthritis 47; In book: Musculoskeletal Ultrasonography in
Rheumatic Diseases, 2015; 47:123-135. DOI: 10.1007/978-3-319-15723-8_6.
A. Iagnocco, F. Ceccarelli, C.Perricone, A. Gattamelata, A. Finnuci, E. Ricci, C. Scirocco, I. Rutigliano, V.
Iorgoveanu , E. Cravotto, G.Valesini Use of Muculoskeletal Ultrasound in a rheumatology outpatient .
Clinic Medical Ultrasonography 2014;16:332-335.
A. Finucci, V. Iorgoveanu , I. Rutigliano, C.Scirocco, A. Iagnocco Utilizing ultrasound in the diagnosis and
management of ostheoarthritis. 2015 DOI: 10.2217/ijr.15.51.
A Iagnocco, A Finucci, F Ceccarelli, C Perricone, V Iorgoveanu , G Valesini Power Doppler ultrasound
monitoring of response to anti-tumour necrosis factor alpha treatment in patients with rheumatoid
arthritis 2015 doi: 10.1093/rheumatology/kev211
V. Iorgoveanu , R. Ionescu, L. Groseanu, R. Ionescu Juvenile Idiopathic Arthritis associated with
incomplete primary hypertrophic osteoarthropathy (pachydermoperiostosis). Romanian Journal of
Rheumatology 2015; 24:4.
Premii, distinctii:
Castigator al premiului pentru cea mai buna imagine ecografica la EULAR Imaging
Course " Sinovita si tenosinovita radio-cubito-carpiana la un pacient cu poliartrita
reumatoida". Lisabona, Portugalia, 2017
Castigator al premiului pentru cea mai buna prezentare la Congresul National de
Reumatologie cu titlul " Ecografia glandelor salivare in Sindromul Sjogren- scoruri
semicantitative in evaluare". Bucuresti, Romania, 2016
Castigator a bursei pentru cercetare clinica "Eular Scientific Training Bursary for young
fellows" cu proiectul "Involvement of salivary glands in primary Sjögren Syndromeassessment
of clinical, serological and ultrasonographic findings in correlation with
sonoelastography" avand ca indrumator prof. Annamaria Iagnocco in Departamentul de
ultrasonografie, Sapienza Universita di Roma, Septembrie 2013- Septembrie 2014, Roma,
Italia.
Oral poster presentation session EULAR "Involvement of salivary glands in primary
Sj ö gren's Syndrome. Elastographic assessment and correlations with ultrasonographic
findings." Paris, Franta 2014.
Prezentare orala " Impegno delle ghiandole salivari nella Sindrome di Sjogren. Ruolo
dell'elastosonografia e correlazioni con l'ultrasonografia." Congresul Italian de Reumatologie , Rimini, Italia, 2014.
Participant la 15th Eular Postgraduate Course in Rheumatology – prezentare orala
"Pulseless man", Praga, Czech Republic, 2014.